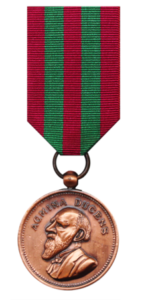 The Lord Strathcona Medal (LSM) is the highest Award which can be bestowed upon a Cadet in recognition of exemplary performance in physical and military training.
During the course of a cadet's career, they are eligible for several honours and awards through various level's of government, committees, summer training, and at the squadron level.
Two such awards are very prestigious in nature and only awarded once a year to two deserving cadets (one per medal) if in fact a deserving cadet is found with in the cadet squadron.  The two awards are :
a) Lord Strathcona Medal: awarded for leadership and physical fitness and,

b) Royal Canadian Legion Medal of Excellence: awarded for Leadership and Citizenship.
The recipients of these two medals are normally nominated by the squadron staff to the Commanding Officer for consideration.
Since 62 squadron is such a large unit, sometimes a deserving candidate is not always visible or known to the staff. As such, we email the general squadron population to assist the officer's in becoming aware of potential candidates. 
Attached are two separate documents, one for the Lord Strathcona Medal and one for the Legion Medal.  Contained with in these documents are the requirements and specifications for each as well as 62 Sqns procedure/process in selecting these cadets.
Should you wish to nominate yourself or a cadet in the squadron we are giving you just that opportunity.
These applications are to be supported with a written narrative as per the 62 Sqn procedure, to be considered.  Written Narratives are so that the official review board can confirm the cadets eligibility before the interview panel is stuck if needed.
Please note:  Nomination forms are to be printed on Legal Paper  (11x14 paper), Narratives on regular paper (8.5 x 11)
Nomination Forms and Narratives will be accepted up to 2130hrs on 16 Jan 15, by the Training Officer or Sqn Operations Officer.
I would like to thank you in advance for your assistance with this process.....good luck to the cadets who are nominated or nominating themselves.  Recipients will be awarded their medal at the Squadron Annual Review.